Tip – Supercharge Your Website
Today's tip comes via Scott Wyden.
SEO isn't the only thing you can do to your website to further reach customers, convert visitors to customers or engage with customers.
In fact, there are quite a lot of small things you can do that take very little time and create a big impact.
I originally wrote an article containing 13 tasks but thought that it would be best to split it up into two articles. That way, you can absorb and implement some of the tasks before the next article publishes.
Let's dig in, shall we?
Create an email list
There are a lot of email marketing tools out there, like AWeber, Constant Contact, MadMimi, Kismet and MailChimp.
Kismet, created by Fundy Software, works along with MadMimi, and has pre-built email templates for the busy photographer.
(As you build your list, be sure to send an email on a regular schedule, offering value every time.)
Embed an email conversion form
Once you have created an email list, you can embed a sign-up form somewhere on your website. If you're using Mailchimp, they have a wizard that generates the embed code with the styling you implemented. Put that sign-up form somewhere people will always see it. For instance, at the top of a sidebar.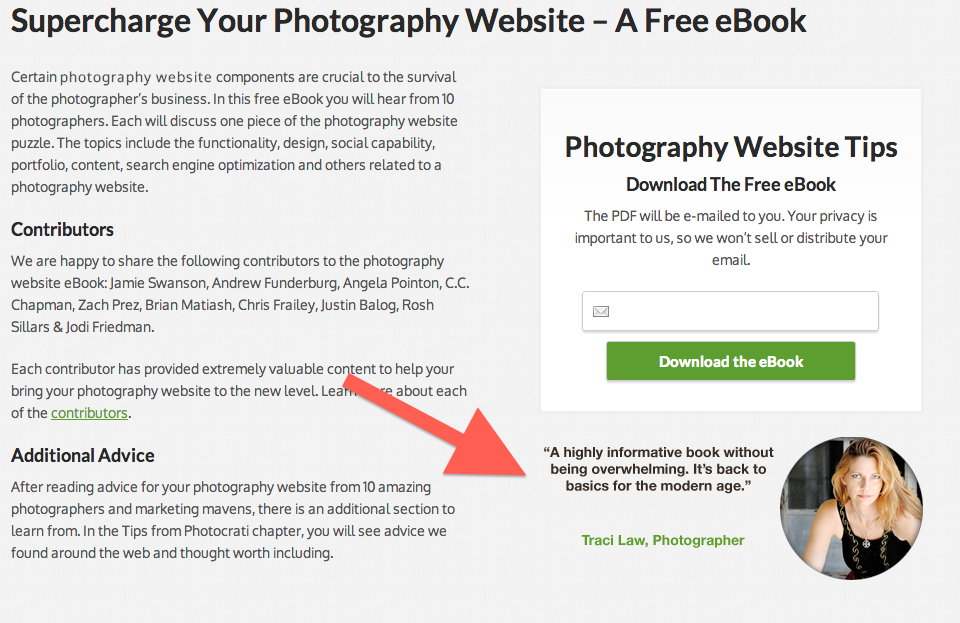 Add social proof of testimonials from clients
Social proof is another term for testimonials, however it goes beyond your typical quote. Usually social proof contains a photo of the person you're quoting and maybe a link to their website or social account, like Twitter.
Share Twitter, Facebook, Google Plus and RSS count
Twitter and Facebook have made it extremely easy to embed a Like or Follow button with a count of how many fans and followers you have. Google Plus also makes it easy, if your profile is a page. If your Google Plus profile is the standard personal profile, then you can still have a Circle badge but without the count. RSS is trickier than the rest. That's because there is no built-in method for providing a badge with a count. If you're using Feedburner (by Google) then one is available. If you're using WordPress, there is a plugin available called Simple Feed Stats, and it includes a count badge.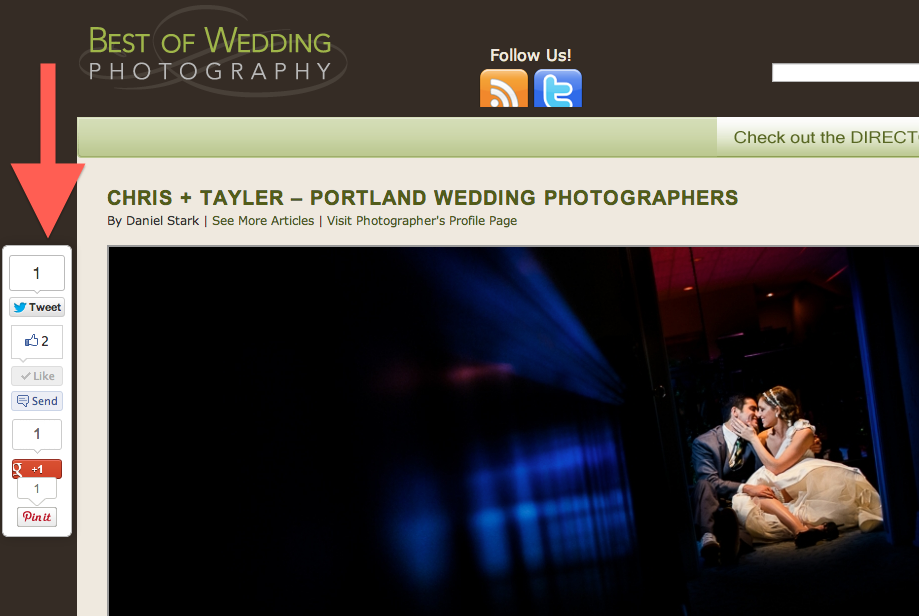 Write "Featured In" articles
Another form of social proof is when your website has been featured on another popular website. For example, if you are one of the many Boston wedding photographers out there, then getting featured on Best of Wedding Photography would be a huge benefit to your business. Not just for the social proof but also for the SEO. In addition to embedding their website's badge for social proof, you can take the additional step of creating an article called "Featured In Best of Wedding Photography." An article like that will grab the attention of website visitors.
Audit your keywords
Take a look at the keywords you are using around your website. Start with your home page and move on to other important pages. Check your title area to make sure that only one keyword is there. Check for keywords in the image ALT tags and meta descriptions. If they're not there, add them. If they're wrong, fix them.
-Scott
Scott Wyden Kivowitz is a NJ photographer and the Community & Blog Wrangler at Photocrati, developer of wordpress photography themes.