Zofia Crosby is a professional wedding and portrait photographer in Nantucket, Mass. Check out ZOFIA&CO for all the great work the studio does.
A little background :
I'm a wedding and portrait photographer in my 18th year of business. I've used Nikon bodies exclusively for most of my career. Heavy equipment, as well as a lot of squatting and twisting on the job, has left me with a variety of back and shoulder issues. I've switched to all primes, but the heavy D3 and D4 bodies are still killing me.
Let me be clear, I'm no hipster. I traded in my Fuji x100 because it didn't function well and got an uncool Canon P&S instead. My world is very preppy, there's nothing especially cool about me or my gear (and that's OK because I can take a great photograph anyway), business is great and clients like me. So, there's that. When Nikon announced the retro styled Df, I was intrigued by its looks as a former film photographer and wondered how it would function as a digital camera for people who are used to shooting fast.
What drew me in and ultimately made me decide to purchase it was the smaller size body with a D4 sensor.  Aha!  The D4 is my current favorite of all Nikons that I've owned — the files are gorgeous, high ISO performance is stellar, and that shutter click is dead sexy. Weighing a bit less than its D3 predecessor is also a plus, though it's still a beast. I read a rant recently that they've never heard a professional photographer complain about their camera being too big or heavy. Um, I'm complaining. The scoliosis, sciatica, and tendonitis I've developed in nearly 2 decades of shooting gives me good reason to complain.
Comparing the weight of each camera body without an additional grip, with battery and memory card, in order from lightest :
Df – 765 g
D600 – 850 g
D800 – 1,000 g
D700 – 1075 g
D4 – 1,340 g
D3 – 1,420 g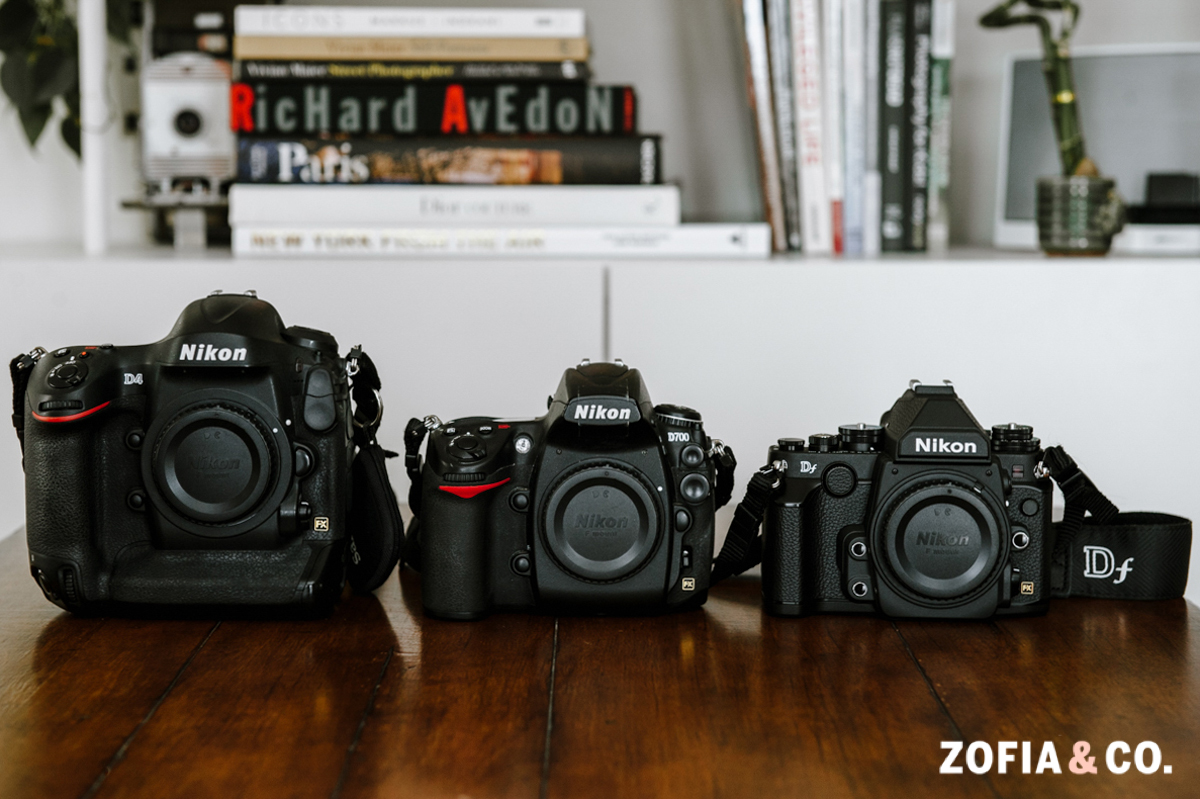 I shoot with a D4 and D3. My husband shoots with a D3 and D700. My thought was that I could get the Df as my second body, allowing him then to have two D3 bodies. My hope was that during a wedding I would shoot the Df for the first half of the day (assuming that it wasn't fast enough to handle low light or dancing) then switch to my D4. I no longer shoot with two bodies if I can help it since I almost always have my second photographer and truly believe four cameras on deck is overkill.
I decided to order the Df right before Christmas to test it out over the holidays. Out of the box, it looked and smelled great. I got the black rather than the silver, to dissuade eager fathers of the bride who wanted to talk shop upon seeing something shiny and different.  Plus I heard and agreed that the silver looked a bit cheap. Since we were away from home without gear, we quickly ordered the 50 1.8mm from Amazon so that we could test the camera immediately.
First impressions :
At first, the grip felt small — almost as though it would slip out of my hand. My husband agreed, but my dad said it felt good in his big hands. Perhaps Mark and I are used to bigger bodies and just needed to adjust. I felt that the part of the grip where your palm rests on the back of the camera could stand to be a bit more substantial.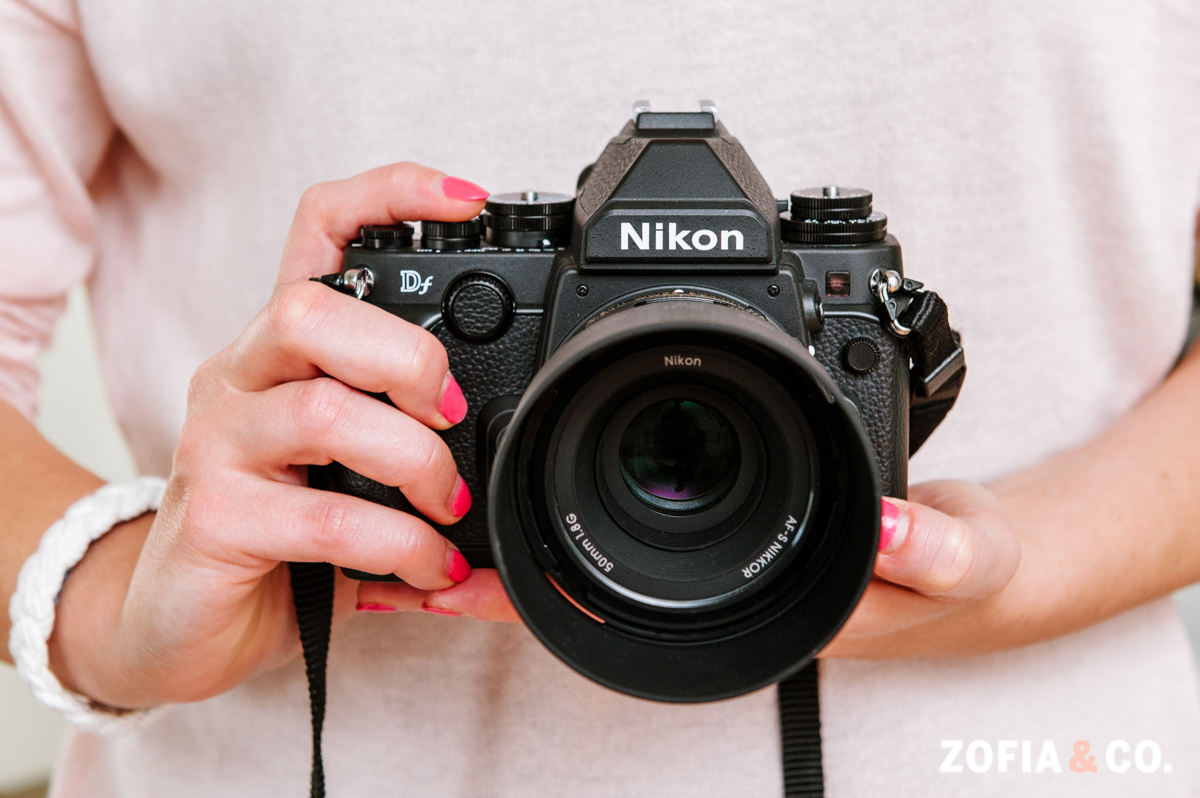 The Df battery charged in about two hours. One thing that was annoying right away was the fact that the battery and the SD card slot were together behind one door using a metal twist lock. Mine needs to be pushed down a bit before twisting (which is frustrating) and I can envision a scenario in which I accidentally break it off.
Without reading the manual, I fiddled around with the body. Everything looked very intuitive with no surprises. I was a film photographer for many years, so the shutter speed dial reminded me of my beloved Pentax K1000. OK, I thought, this will just take a little getting used to and I'll need to relearn some muscle memory. But it soon became apparent that using that dial was going to simply annoy me. I'm so used to controlling shutter speed with the back command dial and I shoot in manual, so I'm constantly adjusting. I cracked the spine on the book and realized that wasn't going to be an issue, since I could simply set the command dial to control shutter speed afterall. Brilliant. Aperture is at my index finger, shutter speed is at my thumb — game on.
The on/off dial is really little and a bit hard to turn, especially if you're a woman with anything longer than stubby nails. I also fumbled searching for the small shutter release. I am ordering a soft release button to raise that and make it easier to find without looking.
I went through the menu to make my standard setting adjustments :  lock release without a card, RAW, continuous low servo, matrix metering, grid on for horizons, playback highlights, and image review on.
The Df has a quiet yet satisfying shutter sound. Surprisingly, it also has Quiet mode which, like the D4, will slow you down but can be handy during church ceremonies.
No surprise, because of that beautiful D4 sensor, that low light, high ISO files are stunning with barely any noise.
The strap gets in the way of the shutter release in the normal way that I like to hold it. It didn't take long to get used to holding it differently by covering the strap with my hand rather than having it hang over my hand. I don't hang my cameras off my neck, so I'll also add a hand strap.
I felt that there were not enough focus points at first since I'm used to the 51 point system. In fact, there are 39 points — that's as many as the D600 (which I've never used but have heard complaints about when it comes to the focus points). It's not an issue for me but it does take some getting used to. That said, I had absolutely no problems focusing in low light, perhaps just with the 50mm lens at f 1.8-2. I even tested out the back button focus (which I don't normally use) and I loved it.
There's no pop up flash, which is fantastic in my opinion. It saves that little bit of weight for something I'd never use. Ditto for video.
The focus setting selector mimics the new D4 version, which is much harder to accidentally trip like the D700 and D3 selectors are.
I just kept wanting to pick it up.
At the wedding :
We went to the Bahamas for a small vacation and wedding, and it was a perfect opportunity to test the camera in the field. I used my 28mm 1.8, 50mm 1.4, 85mm 1.8 (my 1.4 is in the shop), and my 105mm. I used my SB 910 during the reception, which added a lot of weight, but it wasn't so bad paired since it was paired with the primes.
During the welcome party on Friday night I used our 24-70mm and SB 910. Big mistake. It's so heavy with this setup and because of the size, where the bottom corner hit my palm hurt in no time. In the future, I'm sticking with my lighter primes. I've read reviews online about people using a 70-200mm on the Df, and I honestly never would. It just feels wrong.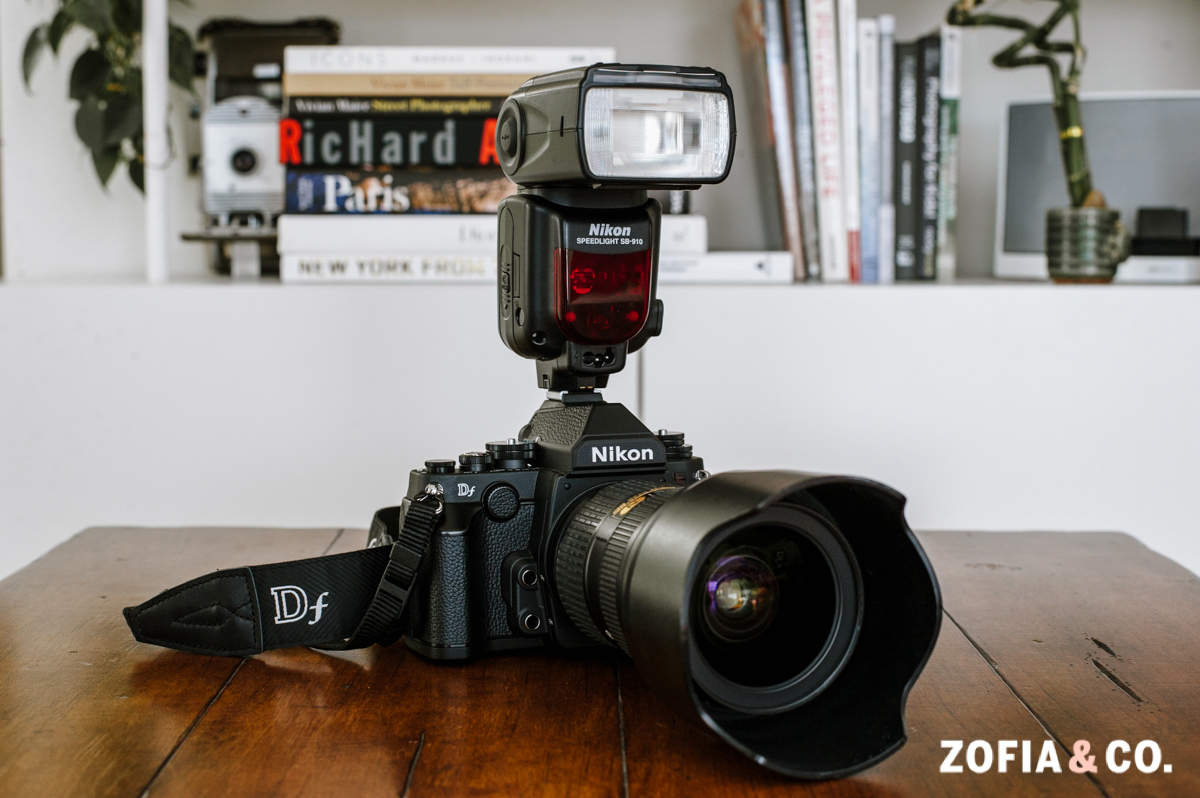 Fast focus was crucial when the bride walked down with her father and passed close to me — I almost missed it because I was sure the groom was going to tear up. I turned quickly and fired off just two shots, though, both which were perfectly sharp.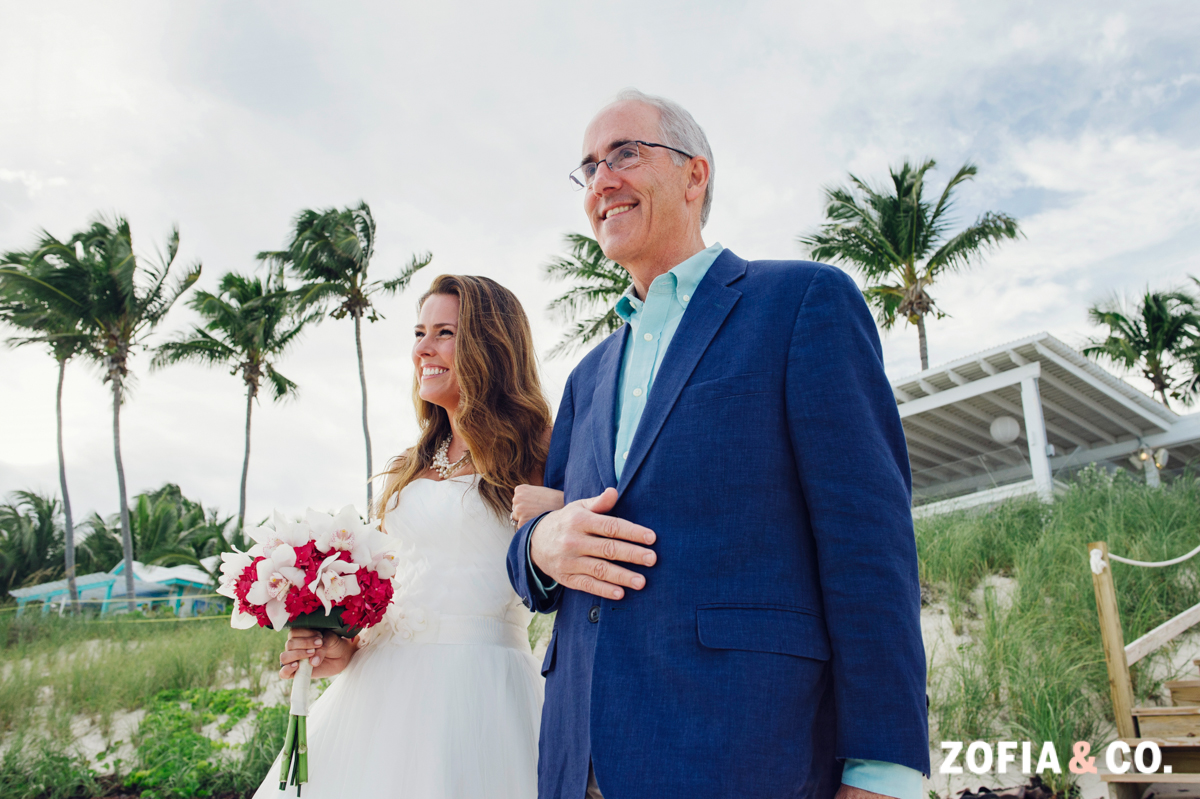 The Df's max flash sync is 1/200.  I'm used to 1/250 and accidentally set it as such for some of my OCF portraits.  A little cropping will solve that, but the difference between a max flash sync of  1/250 and 1/200 will take getting used to.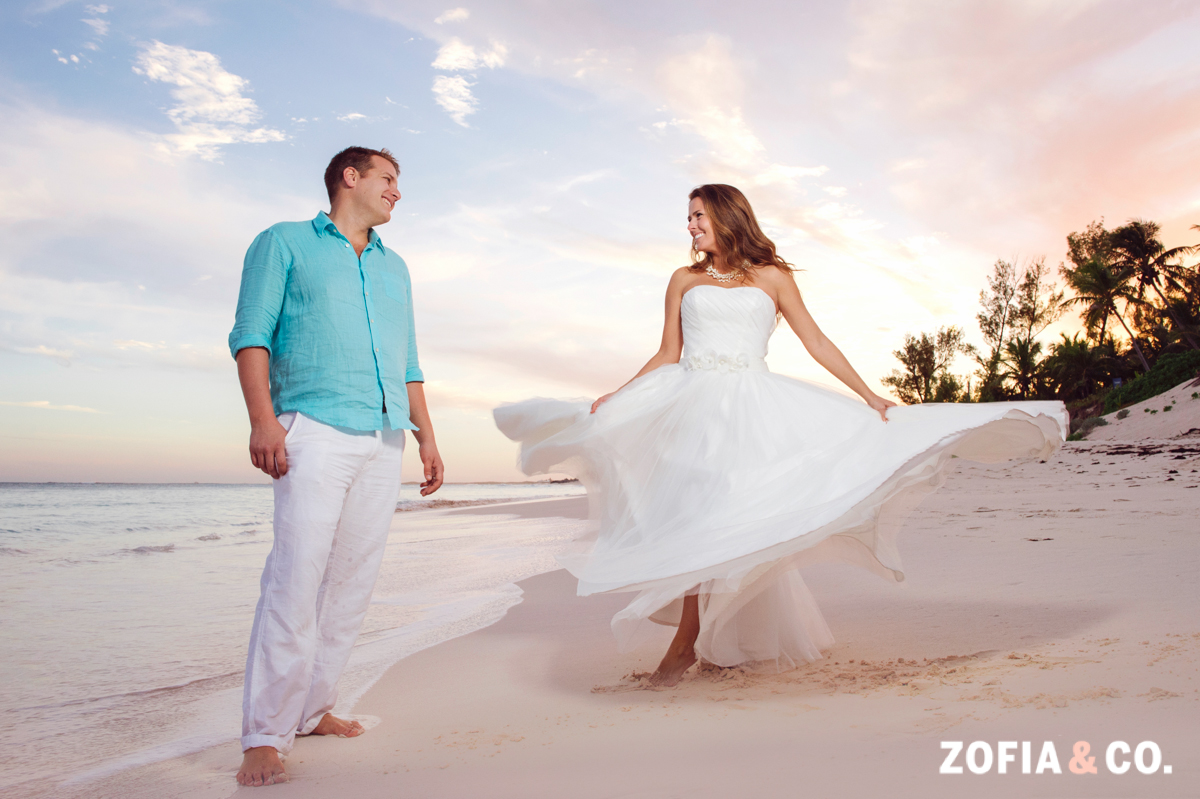 I happily shot between 3200 and 8000 ISO during the reception, just as I do with the D4. No worries, just beautiful files. It's been said that the Df's high ISO above 1600 is even better than the D4, but my eye only sees that they're equally great.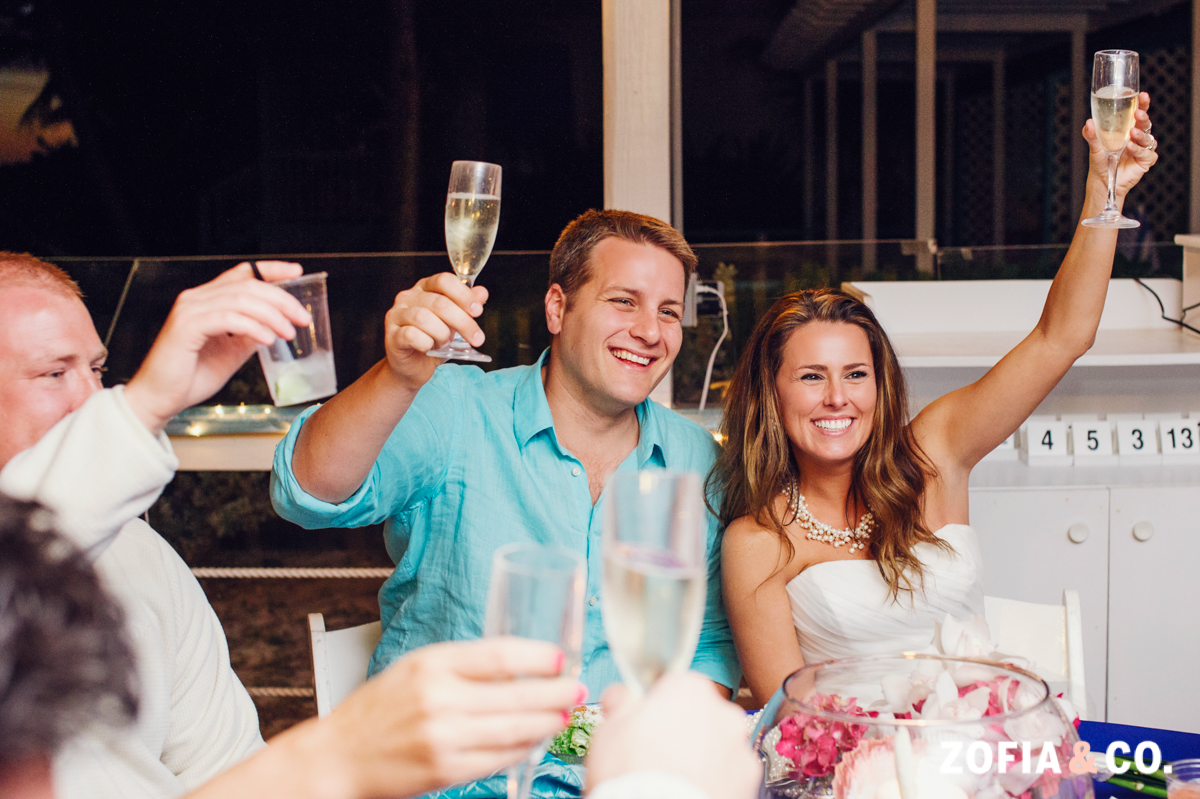 The only thing about using the Df that truly slowed me down was changing the ISO. The ISO dial is on top and requires two fingers. When it was pitch dark outside during the lantern lighting, I would play back an image to see where I was. (I didn't even think to use the Info button since it's not something I've ever used on any of my other cameras.)  You can also change the settings to show the ISO instead of the remaining image count through the viewfinder, but I didn't realize that until it was too late.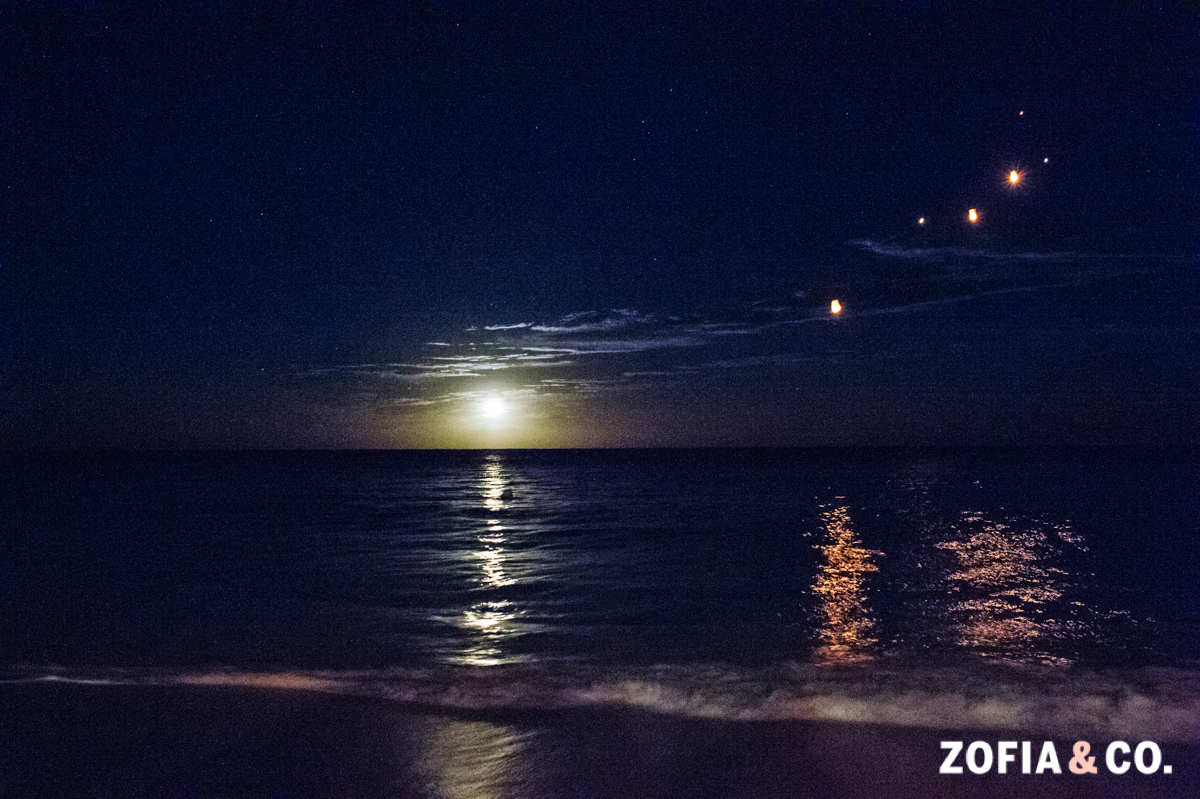 Other than in the pitch dark outside without the flash assist, I had absolutely no problems with the focus with the Df on the entire trip much less during the wedding. If anything, I felt as though I ended up with far less accidental OOF shots because I was shooting slower and with more intent. Perhaps that was because of the fewer focus points, which made me more aware of where I was focusing. When focusing, I used the points, rather than focusing and recomposing as much as possible. I shot in AF S  and single point.
This wedding was a bit different from the norm in that there wasn't a lot of dancing during the reception, so I didn't get to test it out during fast action in low light.  This was the question that I was asked the most after the trip.  I don't know how it will perform under normal wedding reception circumstances, but if I can use it for 75% of the day and then switch to my D4 for dancing, that will be fine by me!
The morning after the wedding, I realized that I had been able to shoot with the Df without thinking of it as a new or different camera. It felt natural, not awkward, and the small grip wasn't a problem after all. The camera felt great in my hand and it didn't hold me back.
In four days and 2000 images, I only changed the battery once. We all know the files are predictably beautiful, and I was certainly not disappointed.
The clincher : 
On Sunday, I went for a walk just after sunset in Hope Town. I was about to put my camera down and head back to the hotel since it was getting too dark to take the touristy type photos I was looking for. Out of the corner of my eye, a little boy ran by with his dog and paused perfectly for just seconds in front of a wall. I turned slowly so I wouldn't scare him off and I fired just two shots. The sharp images I was able to take of him in the dark, at 1250 ISO, 1/125 f 2.8 with my 105mm (which isn't what I consider a fast lens), validated my purchase like no other image could.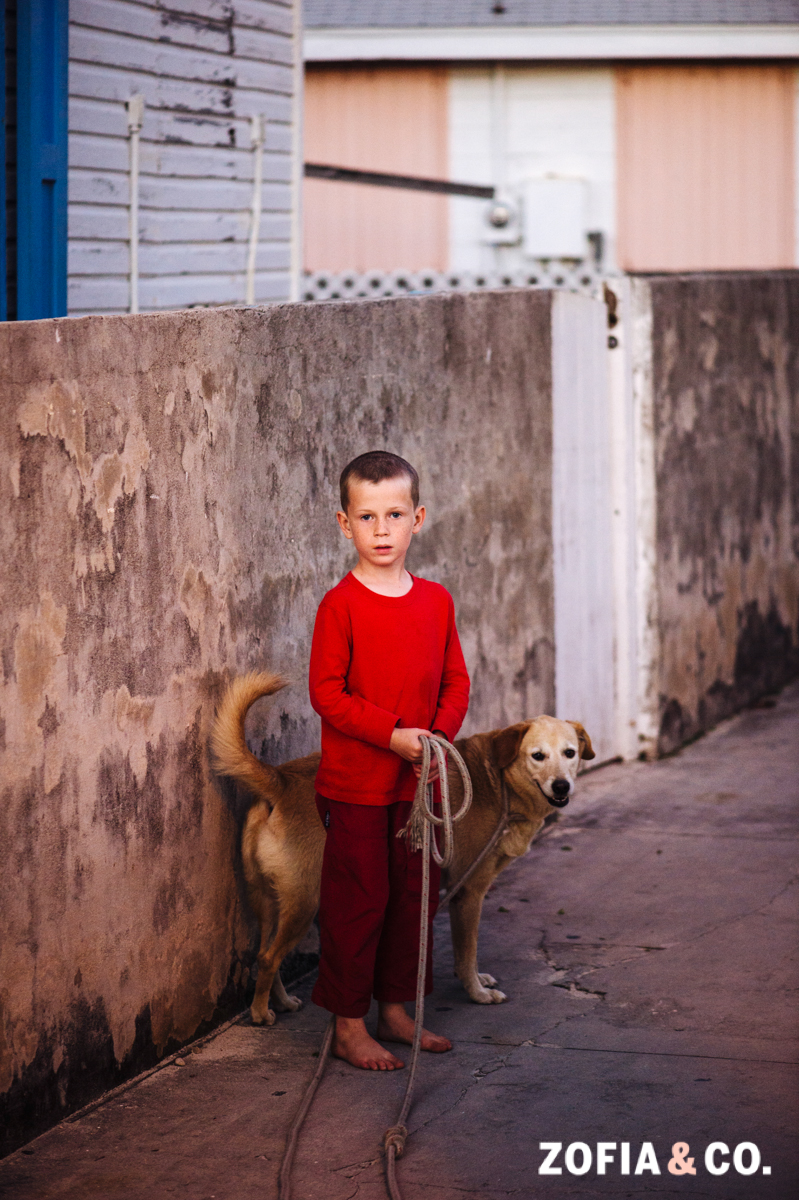 In conclusion : 
I'm happy with the speed and accuracy of the focus at low light, and I did not have any more accidental OOF images than I normally would.
After photographing for four days with the camera, I was no longer aware of my initial awkwardness with the smaller body and grip.
I would change a few things, if I could:
1. The grip could be longer and more comfortable with heavier lenses.
2. The palm grip could be more substantial to allow a better hold.
3. The ISO could be easier to change (but then why bother with the retro styling, right?).
So maybe it doesn't need to be so "cool," but perhaps the coolness of the camera also makes it more fun. For those of us who shoot more for clients than personal work, maybe it's what we need to play around again and get excited. It's working for me.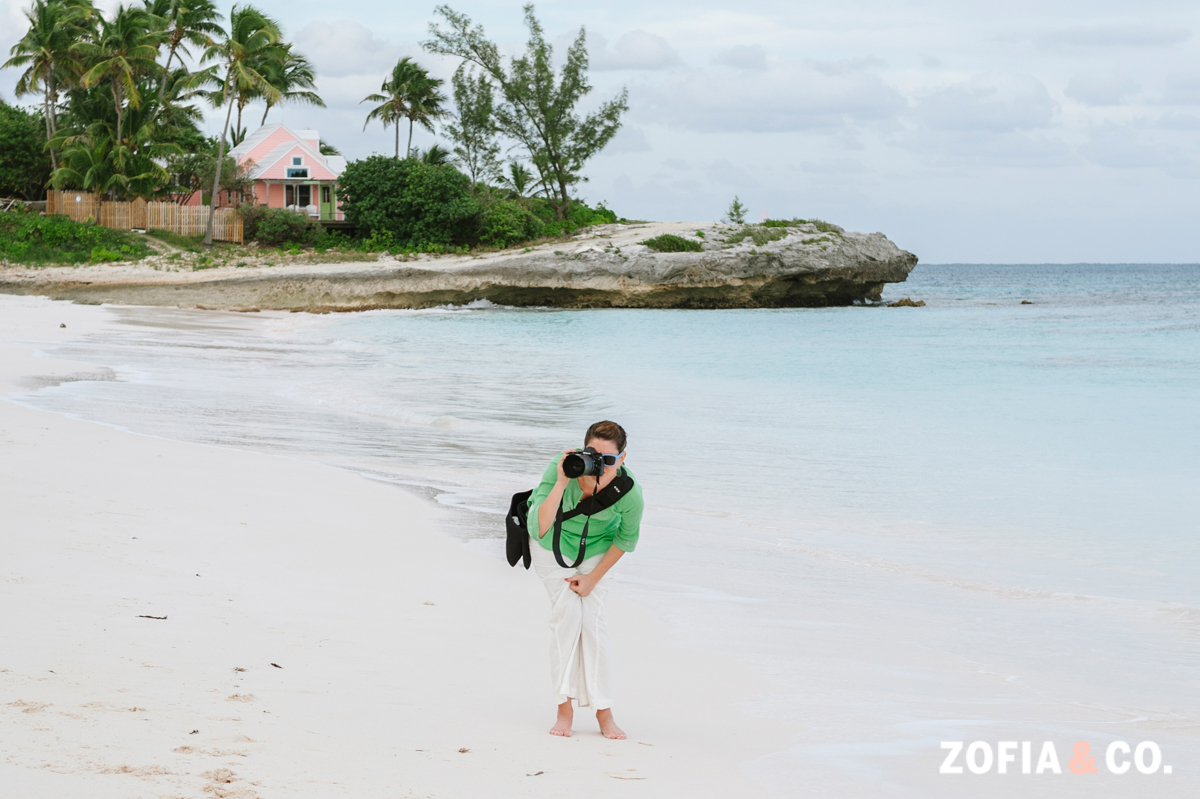 All in all, I am more than pleased. I will probably use the Df more than I initially thought I would. Because of the way I shoot with lighter lenses, I will only need to make a couple of modifications in order to make this a great camera for me.  I'll be getting a soft release button and a hand strap.
I recommend the Nikon Df for professional wedding and portrait photographers who love a little nostalgia and get excited playing with new gear, are looking to lighten their load, are willing to slow down, and want the quality of the D4 sensor but would like to save $3200.
To connect with Zofia, see her website. See her most recent destination wedding blog post here.