Whether you're racing a car in Le Mans or skiing down a mountain, with most things in life, speed and control have an inverse relationship. The faster you move, the less control you have. Since the inception of Fundy Software in 2008, my goal has always been to reverse that relationship – increase the speed at which we can work without giving up control. During this eight-year journey, we've introduced significant upgrades every single year that we've been in business. In 2014, we were granted a patent on the only template-free photo design application in the world. This year we've introduced the first ever patent-pending professional auto album design. In this blog post, we'll give you all the steps to help you run it with ease. 
The Fastest Auto-Design Album Builder
Sometimes you're in a time crunch and you just need to get an album out the door. That is what the Auto-Design was built for.
Start by creating a new album, if you would like to use one of our direct labs, you can, after the album is finished you can order it directly. Or choose one of our 100s of design and export labs, or even a custom size and order the album through your lab or album company.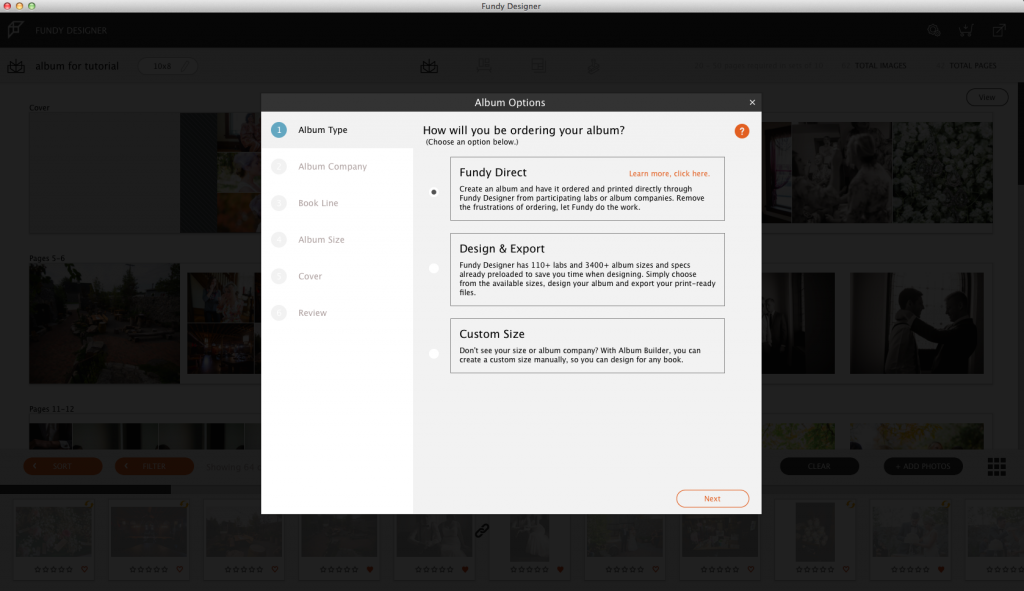 Covers are important. If you are ordering direct, we have all of the cover templates pre-loaded for you. If you are ordering through our design and export labs or you are doing a custom size. Save the cover template from your lab as a JPEG and choose that JPEG as your cover template.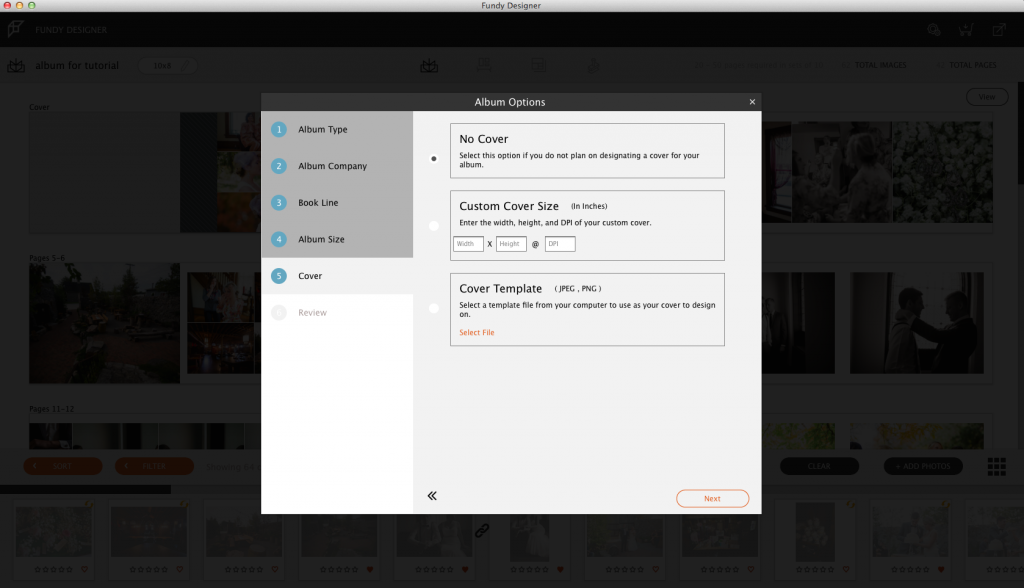 Once you are ready to design, Just hit the auto design button and choose how many pages you want.


(You can use all of the images you imported, or you can narrow it down if you've used keywords to tag any of your images.)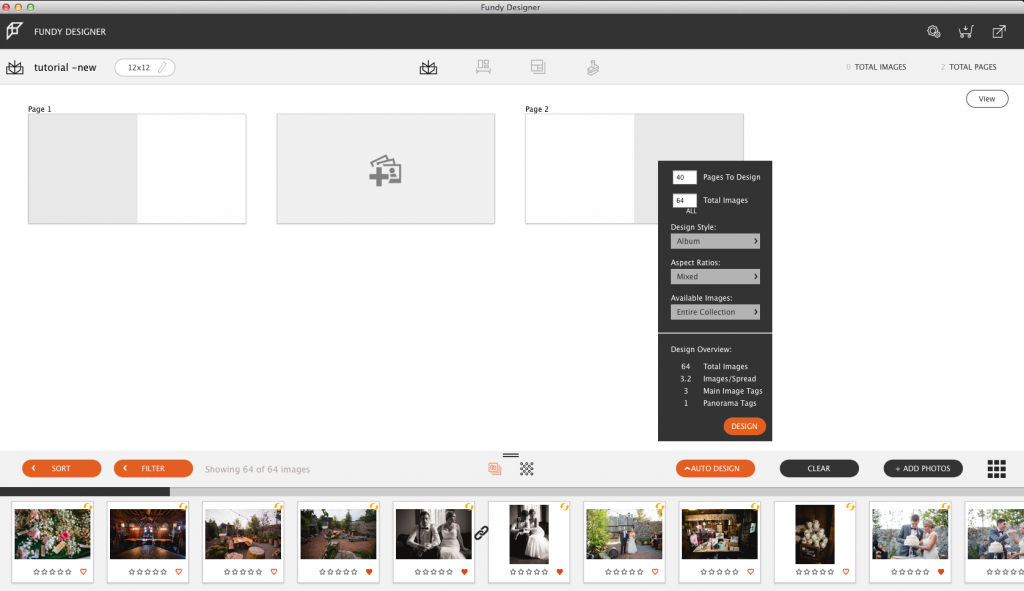 Once you have chosen your number of images, choose the Design button and watch Album Builder do its magic.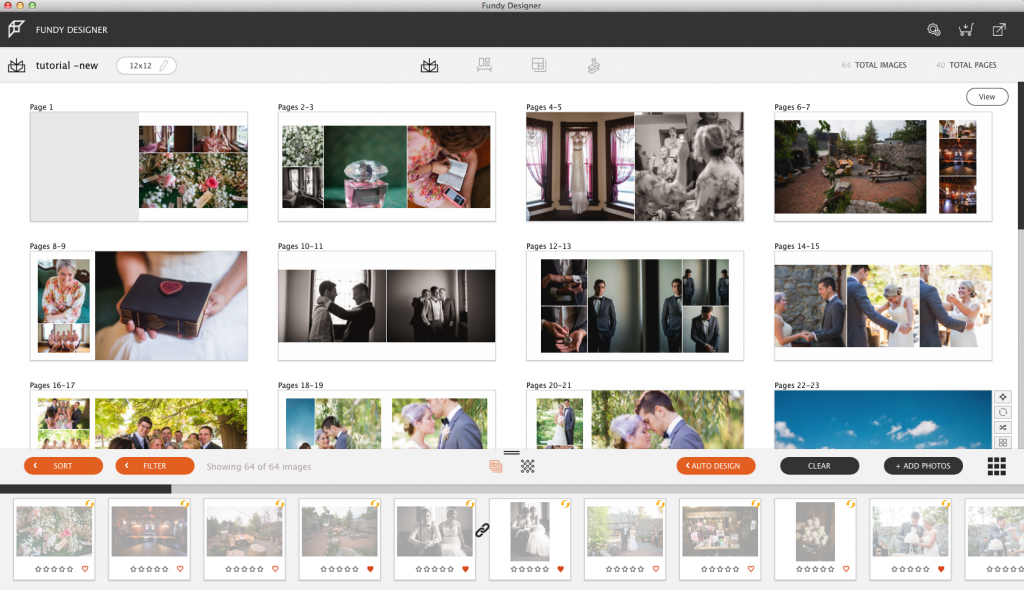 If you love the design, you are good to go. If you want to move any images around, just move them wherever you want. Want a new look for a page, just choose from hundreds of designs from our patented quick designs.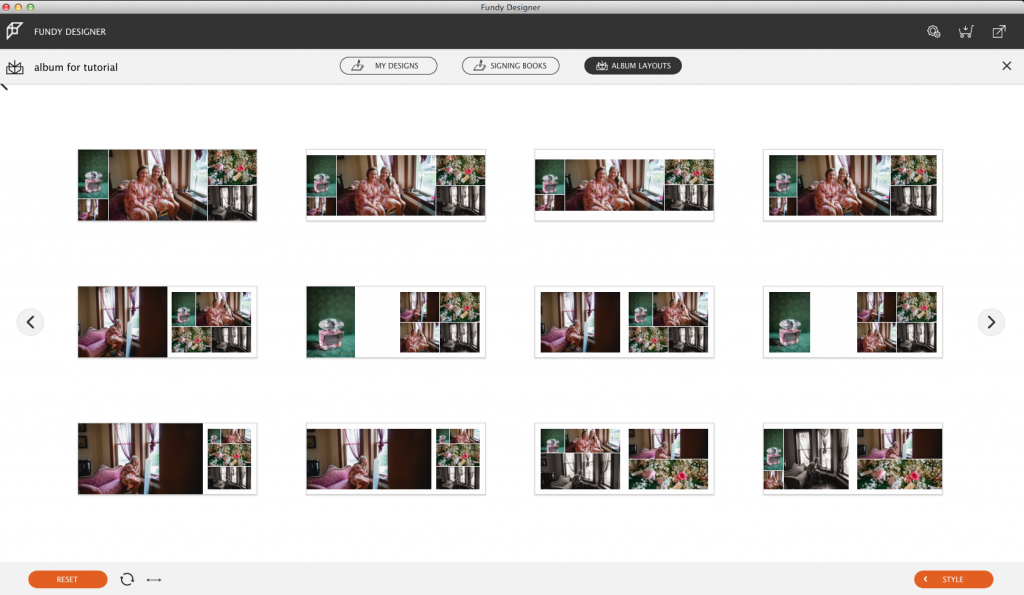 And when you are done, proof the album with your client or order it direct. Go to Ordering, Exporting and Proofing Tutorials to learn more.
Professional Auto Design in 15 Minutes
As professionals, we need to complete our work as quickly as possible, but we also need to be in full control, giving our clients what we need. We've shown you the option to have full control, and we've shown you the five-minute auto-design option. But maybe the perfect place is somewhere in the middle. An auto design base with the full control options to customize quickly and efficiently. The tutorials above will help you get started, but before you press the auto-design button, open up the new Image Browser and start organizing your album.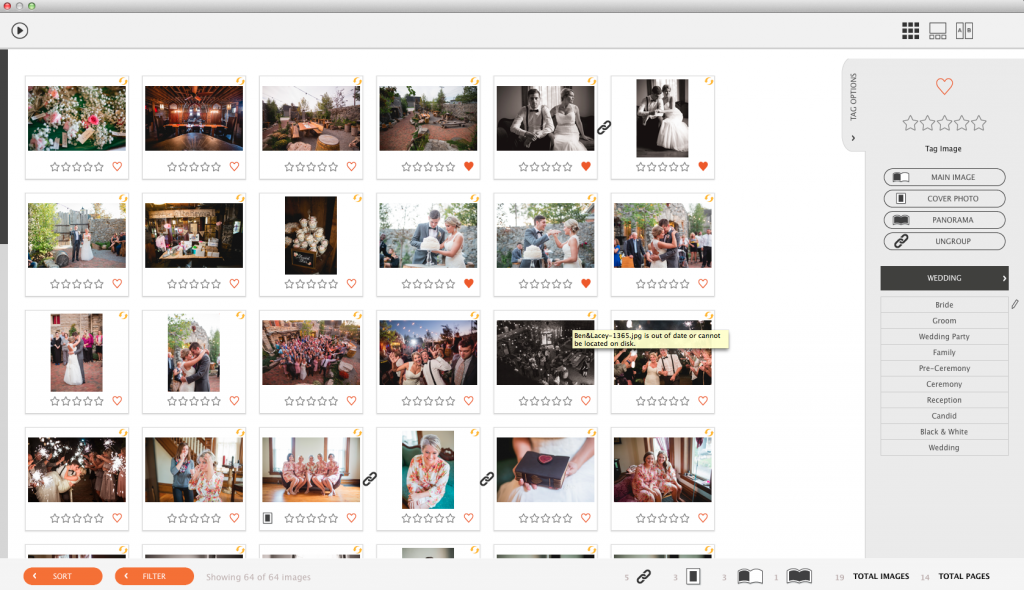 Choose a cover photo and tag it.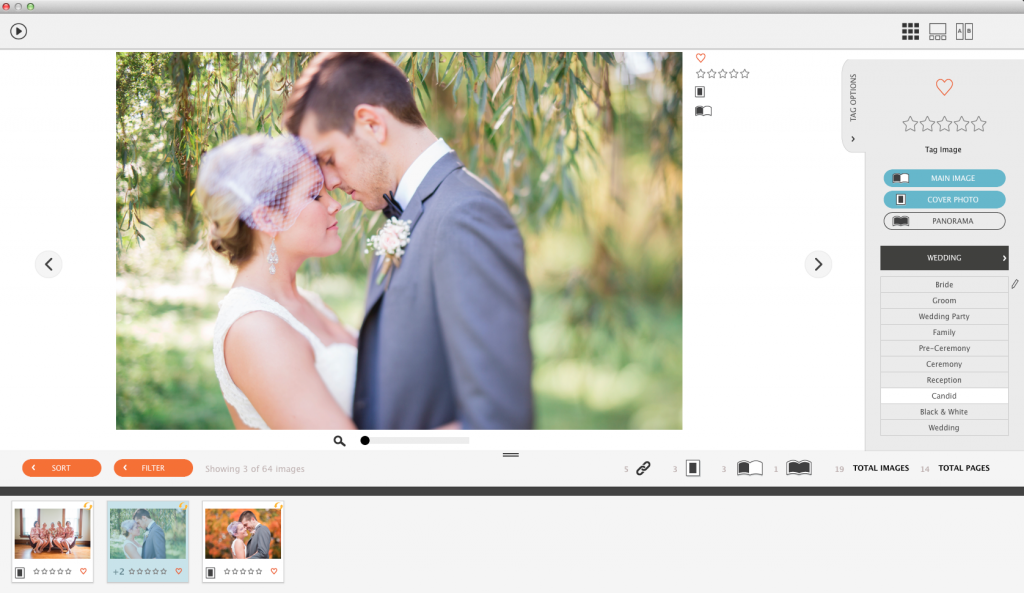 Choose photos that will go on the same spread and Group them by hitting the group button. You notice that the link icon will show that they are now linked.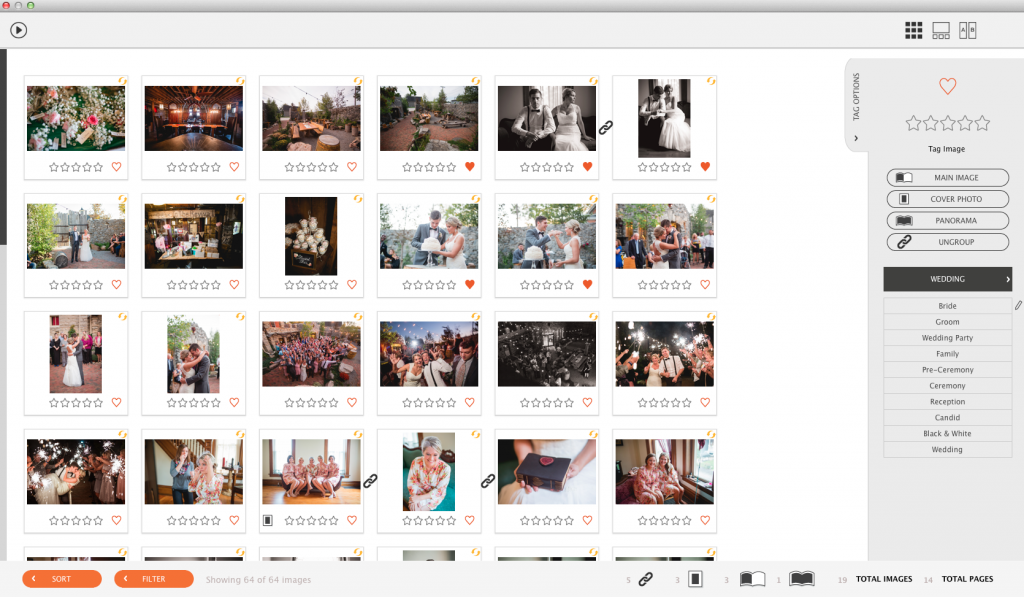 You have the option to choose one image and tag it as the main image. If you choose a main image, Fundy Designer auto album will give you a design featuring that image with the other images as supporting ones. If you do not tag a main image, Fundy Designer auto album will give you a design where the grouped images are more evenly distributed.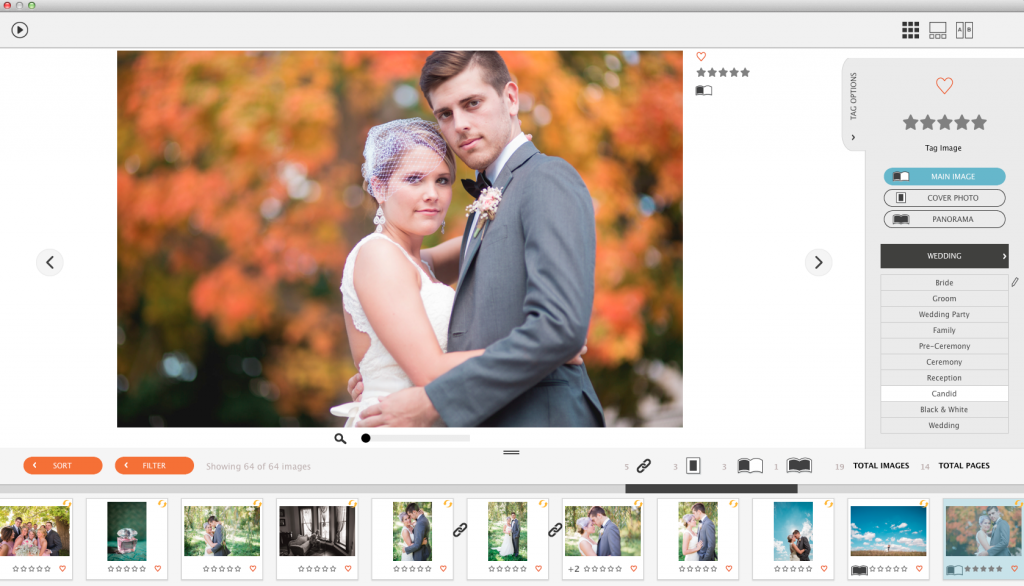 Beyond grouping and tagging main images, you can also tag an image as a panorama. When you tag an image as a panorama, we'll fill the spread with just this one image for you.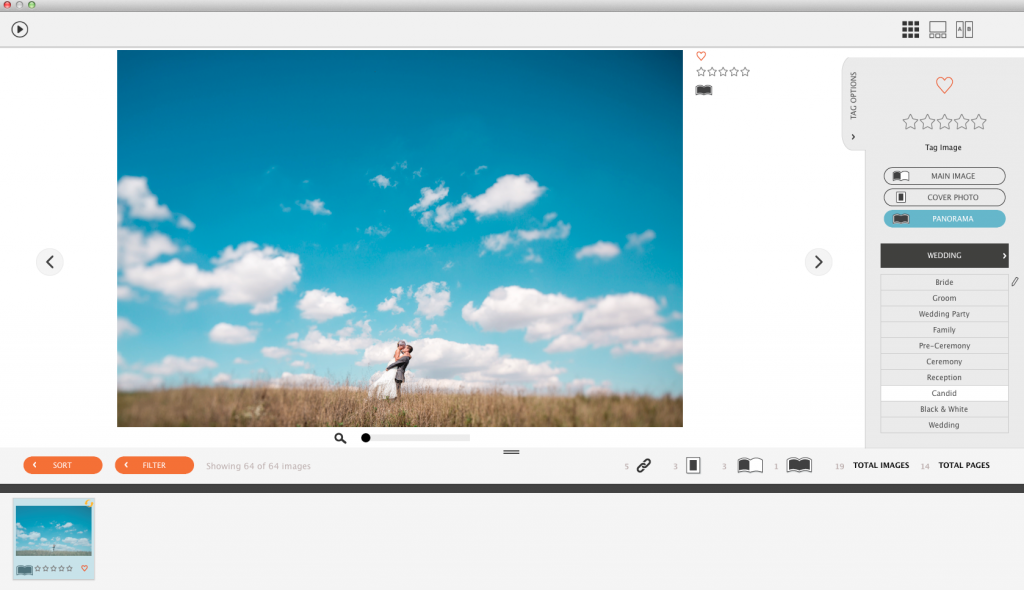 As you are tagging and grouping, we'll keep you up to date on the number of images in the album and the number of pages you can expect when you apply the auto design.

When you feel that you have best organized the images, go ahead and close out the Image Browser to get back to the Album Design, and press the Auto Design Button. You'll see the full album designed in a few seconds, with your pre-made choices all laid out. Now all you have to do it review it and approve it for ordering! (Go to Ordering, Exporting and Proofing Tutorials to learn more.)
Deep Dive Tutorials